Once upon a time I had absolutely no interest in Japanese food and culture. The older I get the more that changes or maybe its just because Dan is constantly excited about it and I'm catching his bug. I even want to name my male child Kaichi. I just love the sound of that name, no idea what it means though.
I made sushi for the first time about a year ago and it was pathetic. Delicious but pathetic. I overstuffed it and instead of wrapping how I was comfortable wrapping, I tried to follow the instructions exactly. It was a disaster and I was so embarrassed by it that I kept apologizing to our guests. Its now one of the easiest and prettiest things I make.
Both of these Sushi Recipe's are from
Vegetarian Times
magazine and I also made the Garlicky Kale from
Vegan with a Vengeance
. I used more garlic than the recipe called for of course, I always do. As long as Dan's eating it too I don't have to worry because we stink together.
Sorry about the quality of the picture, I'm still learning. :)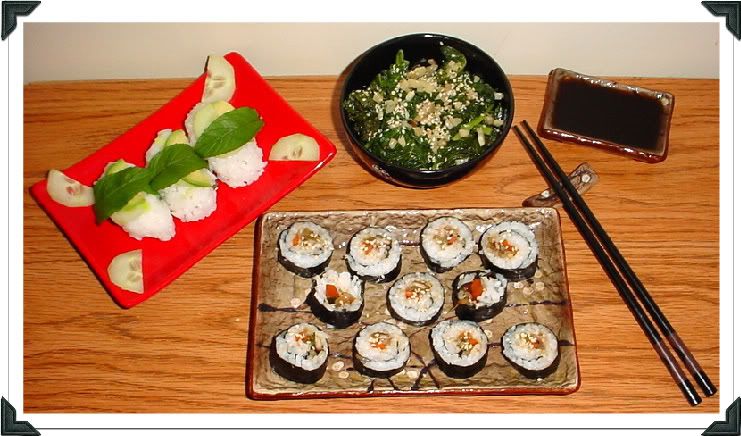 Sushi Rice
1 1/2 cups short-grain white rice (or "sushi" rice)
1 Tbs. sake
2 1/2 Tbs. rice vinegar
1 1/2 tsp. sugar
3/4 tsp. salt

Once the rice is rinsed you put it in a saucepan with 1 2/3 cups of cold water and the sake. Bring it to a boil, reduce the heat to low, cover and simmer for 10 minutes. Then remove it from the heat and let it sit for 10 more minutes with the cover on.

Whisk the vinegar, sugar and salt in a bowl. Put the rice in a large bowl and drizzle the vinegar mixture over it and cut through it with a spoon until it is all absorbed.
If you are making both of the sushi recipe's below double this recipe.
Although the recipe called for sake I left it out. If I'm buying sake its going in a glass. Seriously though we were broke and it would have made the dish too expensive for the small amount it would contribute. It also seemed redundant since there was already rice vinegar and sugar going in there.
I found this particular recipe for sushi rice to be too sweet. It was the first time I made it and next time I'm going to use less sugar, it took away from all of the other flavor's in the meal.
Nigiri Sushi with Avocado, Cucumber, And Shiso Leaves
1 tsp. prepared wasabi, or more as needed
24 thin avocado slices (3/4 of an Avocado)
24 paper-thin English cucumber half-moon slices (1/4 cucumber
12 shiso leaves, halved diagonally
Low-sodium soy sauce

Dampen your hands and shape about 2 Tbs. of rice into an oval. Smear some wasabi on the top and cover with 2 avocado and 2 cucumber slices. Then wrap the shiso leave around the middle.
This was the first time I have made this type of sushi and it turned out to be delicious. It's different from the little circle's that most people are used to seeing. Its rice shaped into ovals and the filling goes on top and then a leaf is wrapped around it to hold it all together. The recipe called for shiso leaves and if you couldn't find those to use fresh basil. Since shiso leaves are kind of minty I decided to use fresh mint leaves instead. It was delicious and the mint added to the crisp clean flavor.
Dan's Review: "The combination of the mint,avocado and wasabi is really different, but really good" (or something along those lines)
Maki Garden Rolls
2/3 cup low-sodium vegetable broth
2 Tbs. low sodium soy sauce
1 Tbs. mirin
12 green beans, trimmed
1 small carrot, cut into matchsticks
10 shitake mushroom caps
3 sheets nori seaweed
3 tsp. toasted sesame seeds
1 cup daikon radish sprouts

In a skillet bring the broth, soy sauce, and mirin to a boil. Add the green beans and carrot, cover and simmer for 6 minutes then remove vegetables from the broth. Add the mushrooms to the remaining liquid, cover and simmer for 4 minutes. Cool and cut into strips.
To roll the sushi place one nori sheet shiny-side down on a sushi mat. Wet your hands and spread some rice over the nori, leave a 1 inch border at the top but other than that cover the sheet and try not to make it too thick (about 1/2 an inch at the very most). Put some green beans, carrot, mushrooms, and sprouts in order below the center line of the rice. Dampen the top edge of the nori and roll up from the bottom. Seal with the top edge and cut each roll into 8 slices with a serrated knife.
Thats how the recipe explains it but I do it a little differently. First, I don't use a mat. It gets in my way. I just roll it up with my fingers and that allows me to keep it nice and tight. I also don't wet the top of the nori until I've rolled up to that point. Sometimes it doesn't stick very well so if I notice it coming apart at the seam after its fully rolled I just dip my finger in water and run it along the seam and then place the roll on the counter with the seam underneath until I'm ready to cut it. Another thing that I find makes the nori look better (and less chewy) is to toast it over the burner of the stove for a bit on each side. Just hold it there with tongs and watch it get darker. That's a little trick I learned from the
Post Punk Kitchen
and every time I forget this step I regret it.
I couldn't find all of the ingredients for this sushi so I made some substitutions. For instance the market didn't have any green beans or fancy radish sprouts when I did my shopping so I just used scallions instead of the green beans and cooked them in with the mushrooms. That way they didn't get all soggy. I also used regular sprouts instead of daikon radish sprouts.
Overall it was good but I prefer the other kind of sushi I make. I guess I just don't like the vegetables cooked. I like them to be crisp and refreshing.
I used the left over broth for a dipping sauce and it was ok but again not as good as what I'm used to. I don't normally use regular soy sauce in my cooking, usually its mushroom soy sauce, or at least Tamari and Braggs. This seemed flavorless in comparison even though it had vegetable's cooked in it.
Last but not least was the Kale. I've never had kale before but have heard it praised by vegan's as the healthiest green leafy vegetable, so I tried it. It was really good (I should have used more garlic though). I was worried that Dan wouldn't like it, because apparently its a 50/50 thing with people, but he loved it. "It's better than spinach!" he exclaimed. So I guess we will be having it more often.
All in all it was a good meal and so filling I almost regretted eating it all.....almost.